With over 1,000 square meters of space, Al Salam's Nile Ballroom, Alamas Meeting Room, and Boardroom are ideal for business meetings, weddings, special events, or conventions in Khartoum. These flexible meeting spaces can be customized to your preferences to create the perfect setting for a gathering of almost any size. Our event and catering staff are at your service to meet all of your needs and ensure your event is a success, from preparing elegant table settings to crafting delicious meals your guests will delight in. Audio Visual services are available, and we offer secretarial services perfect for preparing meeting hand-outs or event programs.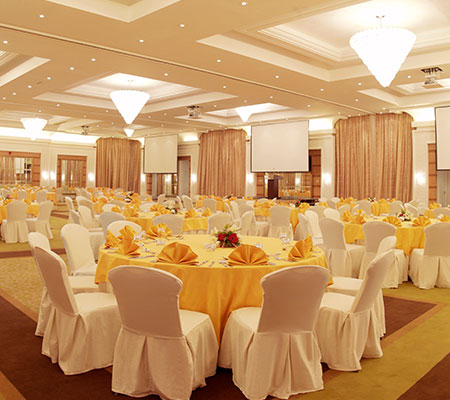 NILE BALLROOM
The Nile Ballroom at Al Salam Hotel is a sophisticated setting for an elegant dinner, awards ceremony, or unforgettable wedding with up to 600 guests. The ballroom has a dedicated pre-event area for attendees to gather in, and can be separated into three smaller spaces for up to 200 people each.
ALAMAS MEETING ROOM
Our flexible Alamas Meeting Room can accommodate up to 250 people, or can be broken up into three separate meeting rooms ideal for conferences. A pre-function area is available where you can serve appetizers before a gala dinner or hand out notes before a meeting.
BOARDROOM
The boardroom at Al Salam Hotel is the premier place in Sudan to brainstorm award-winning ideas and begin exciting partnerships with other companies. Settle into an ergonomic chair for productive business discussions in this modern meeting space equipped with everything you might need for your gathering
AL SALAM GARDEN
An outdoor venue that allows seating for over 1,000 guests and a canvas of stars.  Khartoum's ideal outdoor location for any occasion.
Download Event Kit
Download comprehensive information on events at Al Salam in printable PDF format.
GET FULL DETAILS ABOUT BOOKING AN EVENT
Event Management
The event and catering staff at Al Salam Hotel are prepared to ensure that your event is a resounding success. From photocopying meeting hand-outs to preparing a mouth-watering buffet, we can handle every detail for you so that you can relax and enjoy your stay.
Weekend Offer
Rate is applicable for family only 2/2 (Wife & Husband + 2 kids under 6 years)
Rate includes Khartoum's best breakfast at Al Nuba Restaurant.
Families more than 3 rooms, will get 25% discount on Lunch once during the stay
Offer can an only be availed by Sudanese Nationals & Residents of Sudan
Late check out subject to availability
Rate is SDG 20000NET subject to market trend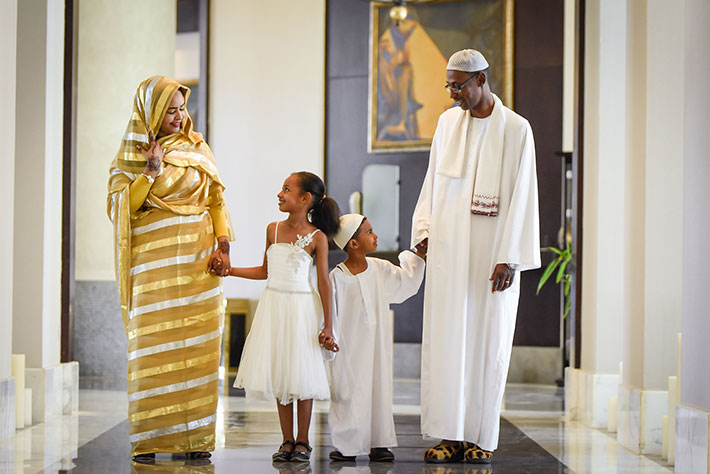 Al Salam Family Promotion
Rate is applicable for family only 2/2 (Wife & Husband + 2 kids under 6 years)
Rate includes Khartoum's best breakfast at Al Nuba Restaurant
Families more than 3 rooms, will get 25% discount on Lunch during the stay
Offer can an only be availed by Sudanese Nationals & Residents of Sudan
Late check out subject to availability
Rate is SDG 22000NET