Weddings at Al Salam Hotel are both memorable and stress-free for you and your guests. With luxury accommodations and state-of-the-art amenities, Al Salam Hotel is a premiere location for weddings in Khartoum. Our experienced staff can handle every detail of your special day so that you can focus on enjoying the experience and making lifelong memories.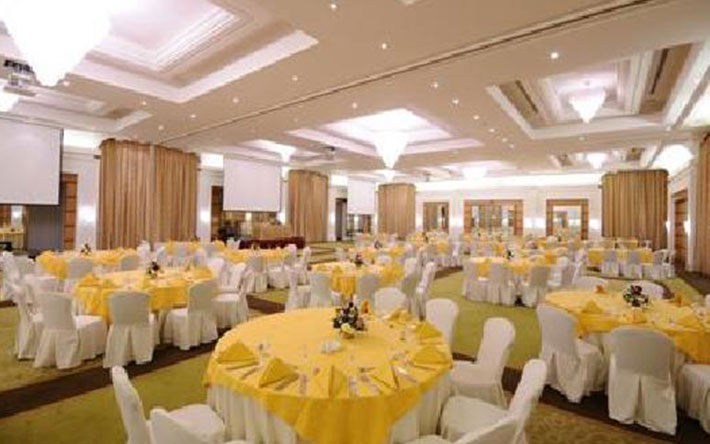 Planning
Use our wedding planning services to choose the perfect event space, decide on which audio-visual equipment you will need for your event, select arrangements from our florist, and decide upon a menu from the catering department.
The Big Day
After being picked up in a luxurious limousine, you can enjoy a relaxed rehearsal dinner with your wedding party at our on-site restaurant and rest up for the big day in a luxurious room or suite. Get dressed for the ceremony in the comfort of your room while enjoying a light meal from room service, then head down to one of our ballrooms for the big event.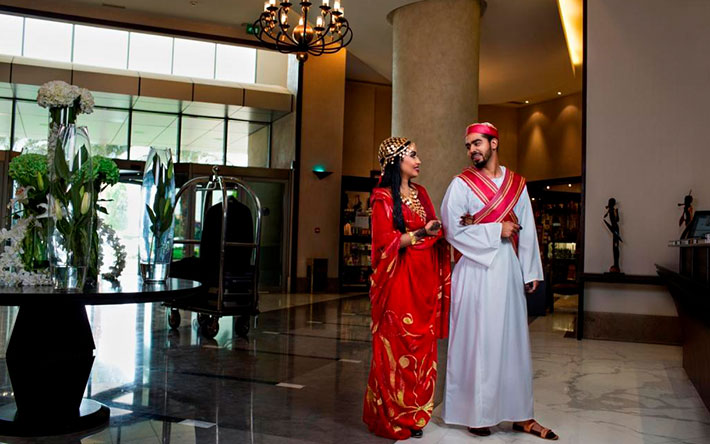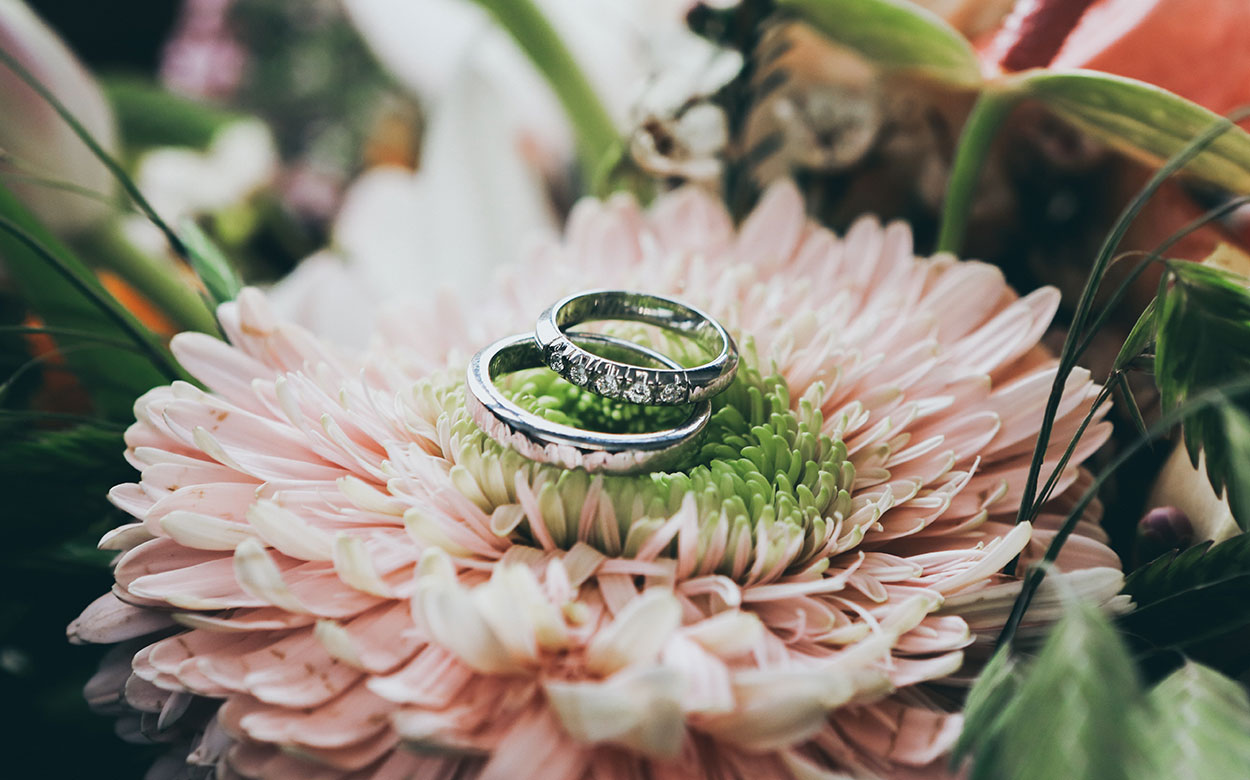 The Ceremony
Fresh flowers and serene music create a romantic setting in your choice of our venues, while professional audio equipment ensures that all of your guests can hear the ceremony. After the "I Do's", you can move on to a separate ballroom for dinner and dancing. Our photography and video teams can capture the entire event to ensure your memories last forever. Spend your wedding night in one of our luxurious suites that has been set-up in style and elegance just for you.
Happily Ever After
Enjoy breakfast the next with your guests at Al Nuba Restaurant, Khartoum where our chefs will serve you the most tantalizing dishes. Retreat for an intimate coffee and dessert later on at City Café or in the luxury of your own suite with those most dear to you before setting off on an exciting honeymoon.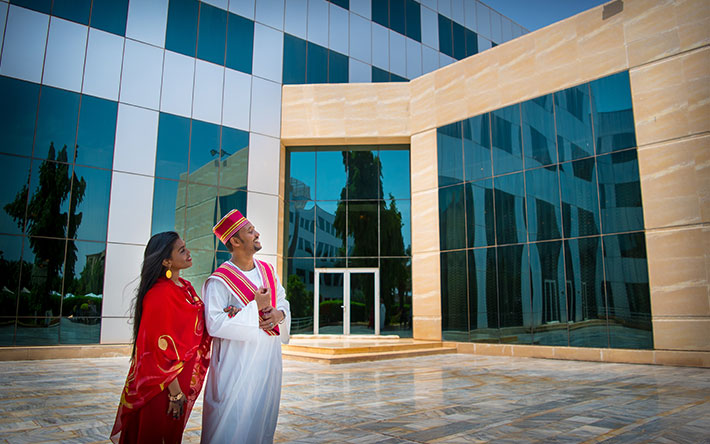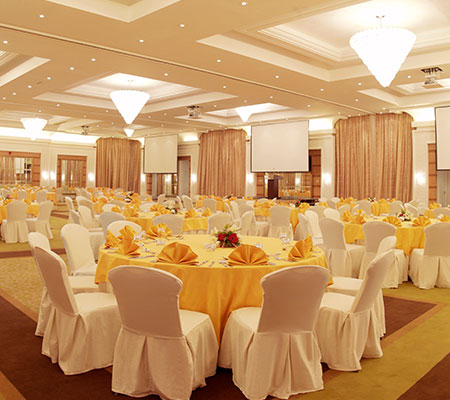 NILE BALLROOM
The Nile Ballroom at Al Salam Hotel is a sophisticated setting for an elegant dinner, awards ceremony, or unforgettable wedding with up to 600 guests. The ballroom has a dedicated pre-event area for attendees to gather in, and can be separated into three smaller spaces for up to 200 people each.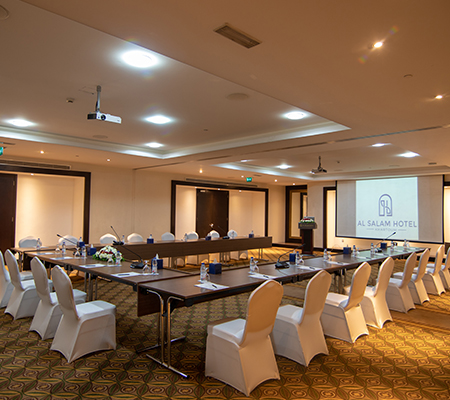 ALAMAS MEETING ROOM
Our flexible Alamas Meeting Room can accommodate up to 250 people, or can be broken up into three separate meeting rooms ideal for conferences. A pre-function area is available where you can serve appetizers before a gala dinner or hand out notes before a meeting.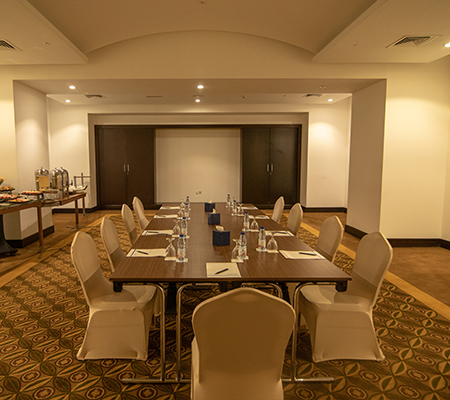 BOARDROOM
The boardroom at Al Salam Hotel is the premier place in Sudan to brainstorm award-winning ideas and begin exciting partnerships with other companies. Settle into an ergonomic chair for productive business discussions in this modern meeting space equipped with everything you might need for your gathering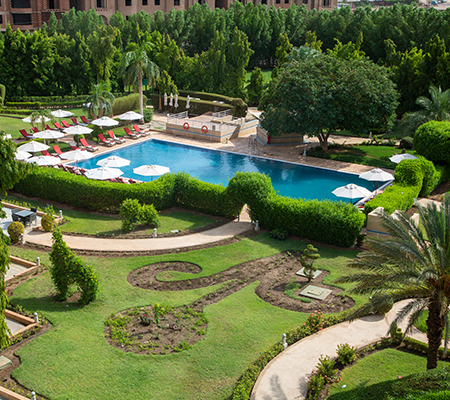 AL SALAM GARDEN
An outdoor venue that allows seating for over 1,000 guests and a canvas of stars.  Khartoum's ideal outdoor location for any occasion.
Our wedding planning and services include:
Professional Wedding Planner – Our wedding team can take your vision for your wedding from dream to reality. From the music to the decor, we can help you put together an unforgettable event.
Wedding Venues – Al Salam Hotel offers multiple event spaces that can accommodate wedding parties of almost any size. From a small gathering with family and friends to a huge party with hundreds of guests, our versatile spaces are a perfect choice.
Audio/Visual Services – From professional sound to ensure everyone can hear your service to special lighting for your reception, our modern audio-visual equipment can enhance every aspect of your event.
Florist Services – Fresh flowers as a wedding essential, and we are happy to help you select high-quality flowers and stunning arrangements to decorate the wedding venue.
Catering – Our fantastic culinary team can customize a menu for your wedding that will delight every guest.
Video and Photography Services – Capture the beautiful moments of your wedding on film and video. Our photographers and videographers can ensure the memories of this special day last forever.
Bridal Suites – Stay in one of our suites the night before your wedding day for plenty of space to get ready in and easy access to the wedding venue on your big day.
Honeymoon Suites – After saying goodbye to your wedding guests, retreat to one of our spacious suites to relax in a luxurious setting.
Download Event Kit
Download comprehensive information on events at Al Salam in printable PDF format.
GET FULL DETAILS ABOUT BOOKING AN EVENT
Honeymoon Package
Al Salam hotel Khartoum is the perfect gateway for newlyweds to treasure those precious moments. Enjoy the incredibly romantic room decor that includes flower arrangements and candles for a truly special ambiance.
Honeymoon Package includes:
– Complimentary breakfast buffet
– Complimentary Cake upon check in
– Special room decoration
– Complimentary 30 minutes massage for bride
– Late check out till 4 PM (upon availability)
– Complimentary Gym and pool facility
– Premium Wi-Fi
Terms & Conditions:
Room rate is inclusive taxes. Rate is applicable for honeymooners; marriage certificate and IDs must be presented upon check in.
E: [email protected], T: +249187007777
Happy Anniversary!
Plan an unforgettable romantic stay and celebrate your anniversary with our special package.
Anniversary Package includes:
– Complimentary breakfast buffet
– Complimentary Cake upon check in
– Special room decoration
– Late check out till 4 PM (upon availability)
– Complimentary Gym and pool facility
– Premium Wi-Fi
Terms & Conditions:
Room rate is inclusive taxes. Offer can an only be availed by Sudanese Nationals & Residents of Sudan. Rate is applicable for only 2/2 (Wife & Husband + 2 kids under 6 years old).
E: [email protected], T: +249187007777